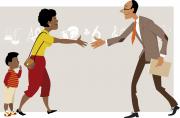 Public schools are required to create an Individualized Education Program (IEP) for each child receiving special education services. This legally binding document outlines the educational program and special services that a child with a disability will receive, and it is created by an "IEP team" consisting of the child's parents, teachers and other school specialists.
Many parents feel intimidated at the thought of attending their child's first IEP meeting, but with adequate preparation it can be an informative, successful and (relatively) stress-free experience.
Knowledge is power, and parents who attend IEP meetings with an understanding of state special education regulations will have an easier time. Go online to your state's department of education website and search 'special education'. Parents can find many resources on the site, including information on parents' rights, assessments and sometimes the IEP process.
Parents should be familiar with special education terminology especially the Individuals with Disabilities Education Act (IDEA), one of the main laws on special education. IDEA requires that children with disabilities receive a free and appropriate education (FAPE) and that school districts provide an educational program and related services to all eligible children with disabilities.
If your child has been in school a few years, parents should request a copy of their child's school records and review them before the meeting. These records may provide insight into your child's performance and needs in the classroom.
Your child has likely undergone evaluations funded by the school district to determine her eligibility for special education services. If you also have had private evaluations performed on your child, bring them with you to the IEP meeting. Some schools require that you forward these reports ahead of time.
Parents may want to contact other parents with special needs children who live in their city or town and ask them what services their children receive and what programs the district offers. If you don't know other parents, the information is sometimes available on the school district website.
The final piece of information that will help parents at an IEP meeting is a list of your own goals for your child. No one knows your son or daughter better than you do. Does your child read at grade level? Do you think he would benefit from social skills instruction? Does your child need help with toilet training? Do you want him to have extra time to take tests? (This is called an "accommodation" and is included in the IEP.) Write it all down and bring the list with you.
For more about IEPs, click here.