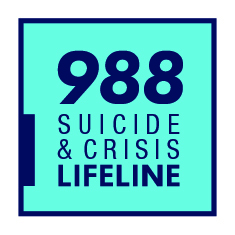 As of mid-July, a new three-digit federal phone number, 988, is available to offer confidential, emergency support 24 hours a day, seven days a week for individuals experiencing mental health crises and emotional distress.
For those who are at higher risk for suicide and mental health crises, including people living with certain disabilities as well as older Americans, calling 988 – as opposed to 911 – could mean the difference between having potentially ill-equipped law enforcement officers intervene and getting connected with the appropriate behavioral health services.
The 988 lifeline will connect callers with crisis counselors trained to provide life-saving support. Select cities also will direct trained crisis teams, rather than law enforcement, to those requiring immediate, in-person help. Individuals who are concerned their loved ones are in crisis can also call the hotline. The existing National Suicide Prevention Lifeline, 1-800-273-TALK, will now automatically transfer its callers to the 988 number.
People with disabilities are significantly more likely than those without disabilities to report suicidal ideation, suicide planning, and suicide attempt, according to research. Among older Americans, men aged 65 and older have the highest suicide rate per year. In addition, seniors with cognitive impairments or dementia have been found to be at higher risk of attempting suicide.
The service is also available in English through online chat and text 24 hours a day.
Learn more on the Substance Abuse and Mental Health Services Administration website.